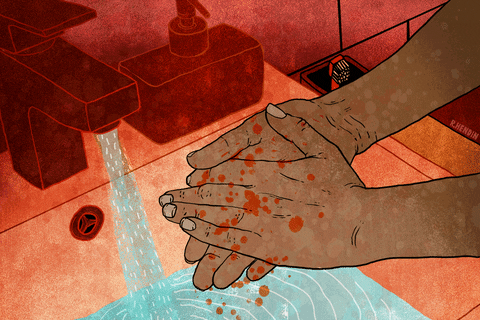 Blind mute Dog.
Before my mother's emergency
hysterectomy
I remember seeing sanitary pads
concertinaed and stuffed away
wondering if
bletting
her stomach
or
remembering things he'd bit
from her tongue
or
(and this is the one
I believed in most
aged 12
from reading my official
The Girl Guide's book for Girls)
when a near impish cord and eye arrived
and the world
crashed
leaving it mackled with wrong survivors
did she
bleed and bleed and bleed
until
doctors finish their tea break
intervene
saying
'there's nothing more we can do.'
did they pad her leaking parts
the best they could
sending her home to
bleed and bleed and bleed
into an eternity of trickling
heat
between her thighs to remind us
of marcid bee's hives
dripping
never waiting for the smoking gun.
Maybe that's why she hates me
why she scrubs
my skin so hard while facing the ceiling
trying to find something
I still don't understand.
Ghost Bird
During the downpour
a black hole
encompassed
by twigs and moss had fallen
addled
I reached out but was paralysed by
the soft crack
underfoot.
Charlotte Begg is a poet and artist living on the Isle of Wight UK. She has had various works published, and hopes to publish her own chap book next year. She spreads her time thinly between her four children, puppy, husband, pot plants, a degree in creative writing, and editing Eye Flash Poetry Journal.